Raise your hand if you have ever struggled with these... 
✂ The crown is too flat! The one thing many brides want on their wedding day and you can't get her hair voluminous for photos.
✂ The updo looks too messy! Your "relaxed" styles just end up looking messy and sloppy.
✂ The curls don't last long! You spend all that time curling just for her curls to drop *cringe*
✂ Prepping takes way too long! Spend hours and hours working on a style and wishing you charged your client double.
✂ Overthinking how to create a style! The frustration of creating an updo and realizing you don't know where to start or what the next step is.
✂ I can't get rid of the '"fly-aways' AKA Frizz! Always wishing you don't work with hair that won't cooperate no matter what products you apply.
✂ The style doesn't last! How do you even keep everything in place when she's supposed to party and dance all night without using to many bobby pins?
THE TRUTH IS...
You can overcome these things, if you have the
right tools and knowledge

.
Imagine if you could enjoy styling...
---
✓ Create styles with ease
✓ Stand out from the competition.
✓ Be proud of every style you create.
✓ Be confident in executing styles for your brides.
✓ Approach any hair type and know exactly what to do.
✓ Become the best bridal hairstylist you can possibly be.
What if you could create the 
most beautiful bridal styles with ease

?
I'm here to tell you – YOU CAN! All it takes is mastering these 3 key things...
Confidence
Get the tools and knowledge you need to practice and build up your confidence in Bridal Hair Styling.
Consistency
Learn how to create consistently flawless Bridal  hairstyles on any hair type.
Competition
Discover how to stand out from the competition by discovering your uniqueness and become the best bridal hairstylist you are destined to be.
INTRODUCING
---
Bridal Hair Styling 101
I have assembled an exact road map to take you through the steps to becoming an incredible Bridal Hair Stylist
40+ Training Videos
Learn what it took me YEARS in the bridal industry to perfect and polish updos and make them last. Learn from in-depth, simplified videos teaching you a variety of techniques and foundations to achieve today's trending bridal styles.
Members Facebook Group
Connect with other beauties in the group and post your questions about bridal hairstyling. This is a place to motivate and inspire you on your journey, share your homework and progress and get an accountability beauty buddy!
Lifetime Access to all updates of the course
Connect with other beauties in the group and post your questions about bridal hairstyling. This is a place to motivate and inspire you on your journey, share your homework and progress and get an accountability beauty buddy!
Perfect & Polish Your Updo Photos Mini-Course
Learn what it took me YEARS in the bridal industry to perfect and polish updos and make them last. Learn from in-depth, simplified videos teaching you a variety of techniques and foundations to achieve today's trending bridal styles.
I've put everything in this course to help you achieve these things.
Ashley Hagen
The bridal styling 101 course I believe is a crucial starting point before moving forward to the subscription course. I needed to know the fundamentals and basics in order to for me to know how to build an up or down style. I also love how I was able to learn at my own pace while working a full time job.
My confidence level has grown. I'm motivated to further growing and refining my skill set so I can be a one stop shop for brides or small weddings who want hair and makeup from one vendor.
Madison Carnelos
The improvement I see from the beginning of the course to now is unreal! I look back at the pictures and think WOW I have gotten better all attributed to the classes and tutorials you offer. I love your motto of practicing with a purpose. I went into every class with the mind set of getting better every time and learning from each style. I did my first official wedding in May.
I had the brides trial in March and one in April. The style turned out perfect on wedding day and that gave me the confidence to start my business. I would not have been prepared if it wasn't for Renee Marie Academy.
Take a look at what you will learn in each of the 6 modules
Module 1
Using the right products to help and not to hurt your style.
Select the RIGHT Brands
Find the right product for the right hairstyle and hair TYPE
Use top rated products to boost your legitimacy
The do's and do not's when applying product
The right amount of product to use and WHEN to use it and more!
Module 2
Properly using your tools to work for you, not against you.
Insert bobby pins to keep your styles intact

Selecting the right hot tool for the right hair type

How to properly use your tools to enhance your styles

Using your tools the right way to prevent hurting yourself (carpal tunnel, ouch)

Get the perfect tease and know which combs to use

How to clean your tools and more!
Module 3
How to section an updo and create a flow
Part the hair in the right spots to help your styles flow into place

How to section thin hair vs thick hair

Where to take the time "prepping" the hair and where not too

Sectioning on different head shapes and more!
Module 4
How to use hair extensions and fillers to enhance a style and take it to the next level
When and how to use hair fillers and extensions

Where to place them in a variety of updos to enhance your style

How to apply extensions to make them stay in place

Where to get the best quality and budget friendly extensions for your client

Get more money in your pocket! Learn how to upsell a service by adding on extensions or fillers

How to "prep" new extensions and more!
Module 5
Creating updo bases for a variety of styles
Get a secure base so your styles last all day (and night!) long

Section bases for a low curly updo, chignon, high bun, half up half down, vintage waves, beach waves, low bun, side swept, braided style and more!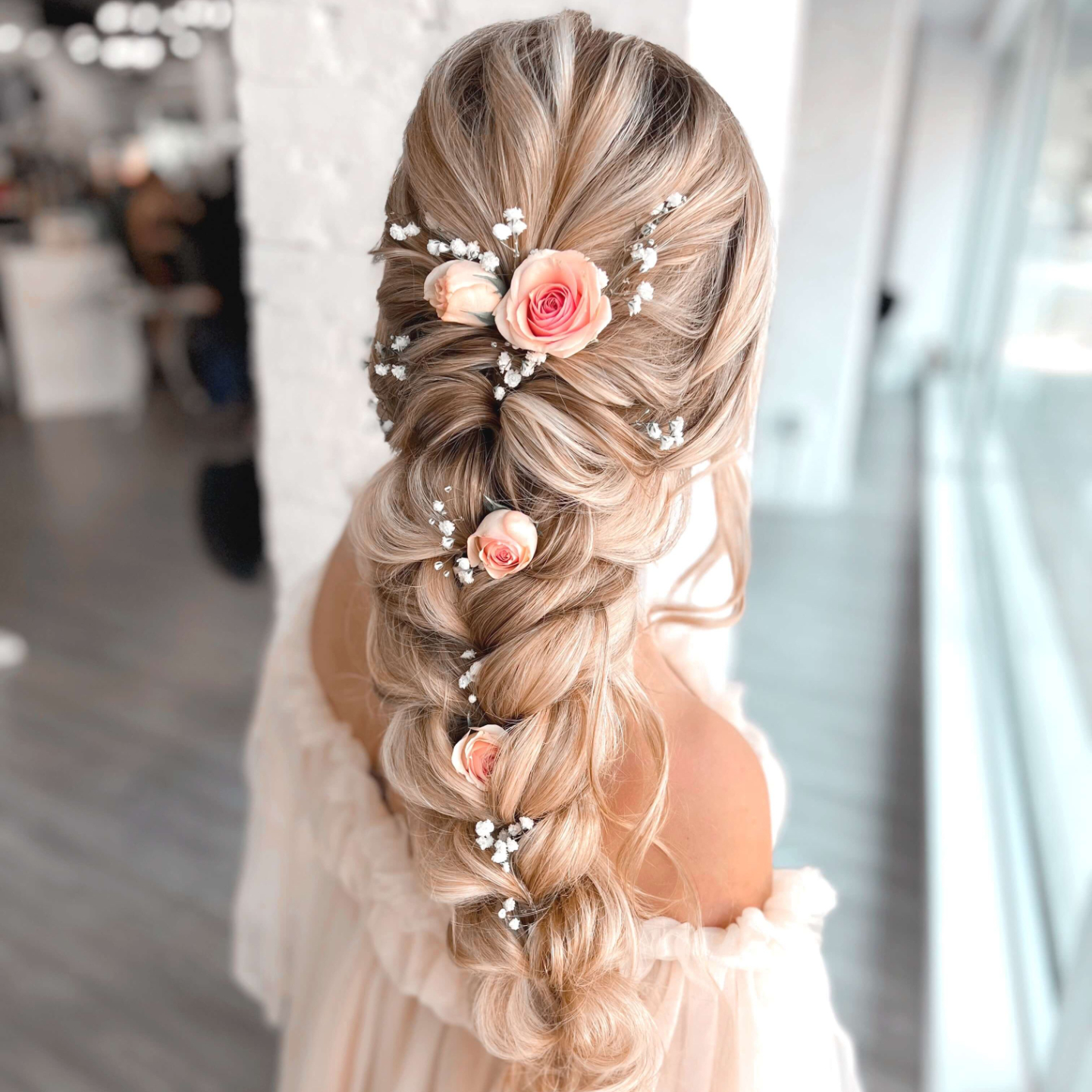 Module 6
Braiding 101
Incorporate braids into styles

Use braids to create texture and enhance dark hair

Use braids to create volume on fine hair

Simplified ways of doing a fishtail, french fishtail, dutch fishtail, dutch braid, french braid, pull-through braid, topsy-tail, double stranded twist, infinity, bushel braid and more!
You've got a decision to make...
Figure this out on your own
(and take YEARS doing it) 
--- or ---
Steal my techniques
(and get MASSIVE results in WEEKS) 
The choice is yours.
Look at these before & after photos from my students!
I had a passion for styling…
always knew I loved styling, even when I was 16 years old in cosmetology school, entering in any styling competition I could!
Once I was out in the real world and had to start taking on real clients, not mannequins or models, and I started to panic.
I lacked confidence…I had no idea how to approach different hair types. One time it took me over 2 hours to do an updo on a client's thick and curly hair. I spent way too much time prepping her hair, I should have used different tools on her hair and I totally overused my products. Even though she ended up liking it, I was so embarrassed and upset at myself.
I had limiting beliefs…I didn't know how to do flat iron curls until a few years ago because I was "comfortable" with using a curling iron. I didn't want to learn how because I told myself it looked too hard to do...
I felt unappreciated and underpaid…When I first started my bridal business in 2015, I charged my brides the minimum because I didn't think I was worth any more than that. I was scared to charge more because I was afraid I wouldn't get booked.
I cried after spending so much time and energy on something that I poured my heart into with every style. I wasted my time and energy because I was overthinking updos and did too much work. 
I knew I loved bridal hair styling and wanted to perfect it once and for all…
So I invested hours of watching well-known hair educators in our industry, challenged myself, entered competitions, and practiced my ass off!
The purpose of creating this course is to take you on a faster and easier path to becoming an equipped bridal stylist so you can feel confident in yourself and your craft.
Let's hear it from my students.
Kristin Jacobi
I used to get so frustrated watching quick 30 second reels of hairstyles and not being able to figure out why my styles always looked awful. After taking your classes I got the actual breakdown of the styles -- what products to use, HOW to use them and how to break down an inspo photo to recreate any style. I learned to be calm and ENJOY the styling process because I feel confident in my abilities instead of anxious and frustrated before I even begin causing me to create messy styles and be less personable than I mean to be. I feel like I'm FINALLY coming into my own and I am so proud of the styles I create.
Lauren Witts
I have found not only a new confidence in myself but the passion and the want to keep learning and improving!
I love what I do again! I have began the transition after 11 years of being behind the chair to being a full time bridal stylist. I enjoy working and constantly continuing to learn.
Katie Lau
I have so many more products in my case! I used to go around with hairspray and texture spray. That's IT! I never knew what to use or how to use them. My styles would look frizzy and lack volume. Now that I have more product knowledge, I have so much more confidence. Just when I thought I couldn't love what I do any more, this course exceeded my expectations. I feel like I can confidently complete a style or at least know some tricks on how to get there when shown a photo.
Start creating styles like these!
Look at these styles my students have created...
Is this course for me if I have been a hairstylist for years?
Is this course for me if I am already a bridal stylist?
Can I re-watch the videos?
Do I get additional support when taking the course?
What does "lifetime access mean?"